So i got free jewels for updating valkyrie crusade a little while ago. Thought it was pretty cool so i decided to use them for an awakening summon thinking id just get another R like i get from all my other summons. I was really happy with the results for once since it only took one try and i got an UR for the first time ever without having to pay out of my ownn pocket. I sas woondering how everyone else was doing with their summon results in the first try.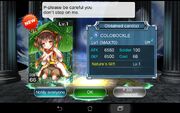 Ad blocker interference detected!
Wikia is a free-to-use site that makes money from advertising. We have a modified experience for viewers using ad blockers

Wikia is not accessible if you've made further modifications. Remove the custom ad blocker rule(s) and the page will load as expected.