Update: There is now a Wiki page on this subject, Campaign Resource, which contains more details.
Original Blog
As I can't find any info on the Wiki on this, I decided to work out the details myself. I am also not familiar with creating a table in the wiki, so  uploaded a picture to display the details instead. :)
The main purpose/use of this list is for maximizing Shoe/Twitter(Vitality) usage when a Bonus Area appear so we won't use more than what is needed and waste the extras.
Below info is based on the commonly used VC Event Map template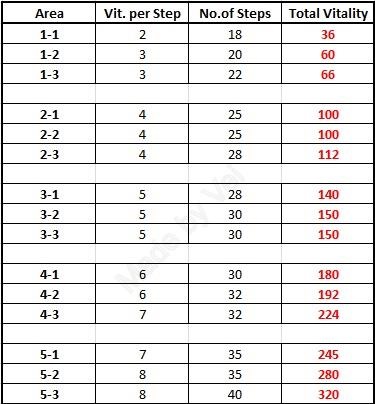 P.S.
- For SA(Special Area) it could be either 600 Vitality (40 Steps at 15 Vitality Each) or 1,350 Vitality (90 Steps at 15 Vitality Each)
- For the event where there are 4 areas (1 of each element) at the end, those areas requires 1,350 Vitality each (90 Steps at 15 Vitality per Step)
Hope it will be a handy reference for those who find it useful and feel free to leave your comments/questions :)
Ad blocker interference detected!
Wikia is a free-to-use site that makes money from advertising. We have a modified experience for viewers using ad blockers

Wikia is not accessible if you've made further modifications. Remove the custom ad blocker rule(s) and the page will load as expected.